RVMS Promotion 2019
MS Staff
Tuesday, May 14, 2019
Monday night the RVMS 8th graders were promoted to high school! The ceremony was held in the RVHS Gym. Principal Heather Hundley welcomed the friends and family of the 8th graders. Abigail Robinson and Benjamin Kneisler, Citizenship Awardees, led the Pledge of Allegiance. Student Council President and Vice-President Kennedy Bryan and Morgan Davis, along with fellow top achiever Gracie Filbert, addressed the crowd.
7th and 8th grade choir sang "Humble and Kind" followed by the 7th and 8th grade band playing "Centuries." Soloists were Abigail Robinson and Garrett Hammer.
The following students were promoted:
Sadie Anderson, Andrew Boster, Wyatt Boswell, Jaxon Brickell, Kennedy Bryan, Gary Buskirk, Jr., Emma Carreno, Karsin Clark, Andrea Clements, Brayden Coffman, Daniel Coleman, Annalyn Cowan, William Criqui, Morgan Davis, Emma Deghand, Gunnar Demery, Signal Douglas III, Jocelynn Efigenio, Abigail Everts, Gracie Filbert, Natalie Fox, Lucas Franks, Preston Golden, Nevaeh Grubb, Aedon Hale, Garrett Hammer, Connor Hammes, Catherine Harvey, Omar Higine, Cheyenne Hittle, Mary Howley, Tressa Jim, Bi-ah-kwe Johnson, Raelyn Kelly-Stone, Benjamin Kneisler, Hepi Knight, Alexis, Koch, Eric Koon, Lane Kottman, Michelle LeClere, Minnie LeClere, Jared Lewis, Ethan Luna-Anguiano, Daimen Martinez, Noah Matya, Parker McClane, Adam McKinley, Jordan Miller, Aven Mitchell, Henry Mitchell, Treyson Murata, Quinton Nelson, Ethan Neuner, Victor Organista, Sherena Penry, Kirsten Reicherter, Allison Reynoldson, Alexa Ribelin, Olivia Rickel, Abigail Robinson, Ryan Russell, Eric Sandoval, Erica Schnacker, Emma Schuetz, Jamison Shane, Marissa Simon, Corey Smith, Jaemon Smith, Donald Stewart III, Megan Swanson, Cody Tannahill, MaeShayla Tye, Cayenne Wahquahboshkuk, Kristen Wahquahboshkuk, Gabriel Wahwassuck, Quashi Wahweotten, Haylee Walden, Michael Wamego, Jase Wege, Tahj Wewenis, Macy Whitetail, Zachary Williams, Elizabeth Wishteyah, Natalie Woods, Richard Zeller.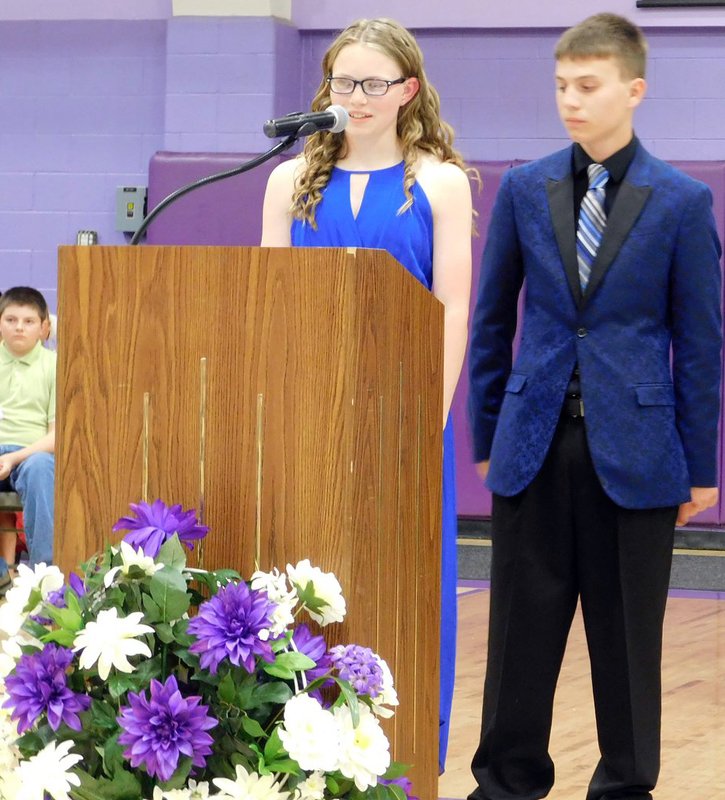 Abigail and Benjamin
Morgan & Kennedy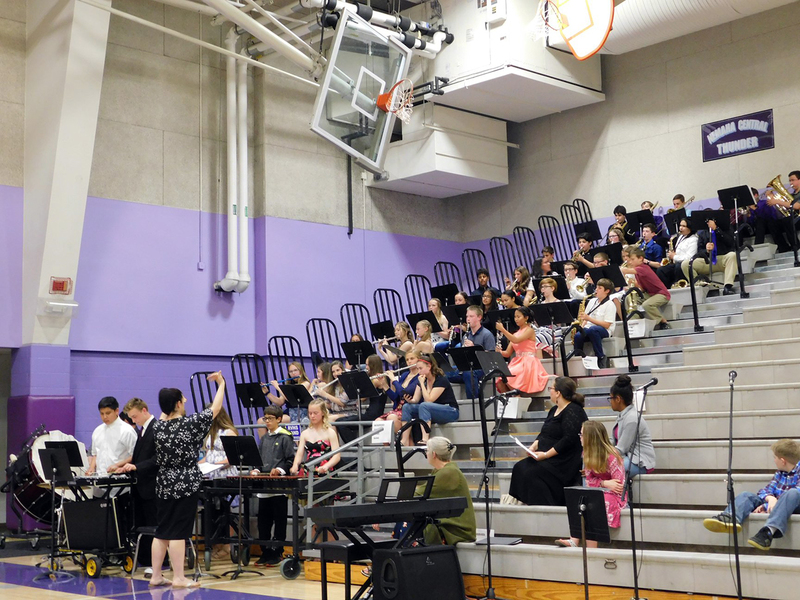 7-8 grade band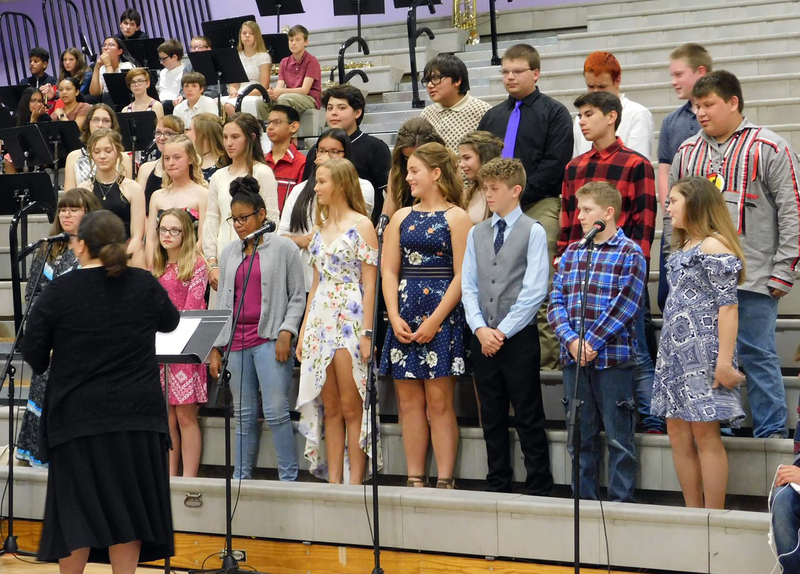 7-8 grade choir
Photos by Mrs. Hainey